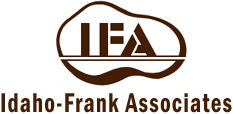 New! Spuddies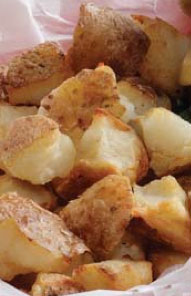 Info
Attributes
Nutrition Facts
Download Fact Sheet

Idaho Frank is pleased to partner with Teton Valley Ranch to offer their Spuddies® Potato Bites.
We start with the finest potatoes and create a delicious product with less fat and a better nutritional profile than typical par-fried potato sides. Preparation is simple. Just cook, add your favorite toppings, and serve. New Spuddies® Potato Bites are the only product of their kind, and come to you from the foodservice potato experts. They are sure to spice up any dish and we think your customers will relish this unique change of pace. Available in Red or Russet Potatoes.
Spuddies Attributes
All Natural
Quick Prep
Deep fry or grill ready
Cook from frozen or thawed
3 grams protein per serving
Not par fried
2-3 grams fiber per serving
No Fat, No Trans Fat
Low Calories
Low sodium
No cholesterol
Great holding time - up to 2 hours
Menu Versatility - sides, skillets, appetizers, breakfast bars,
soups, replaces fries/tots
Higher yield compared to water blanched products - IGF hash browns, refrigerated products, skin on chunks & others
Russet Spuddies
Nutrition Facts

Red Spuddies
Nutrition Facts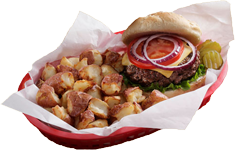 Our target markets are food service as well as retail end-users.
Contact Us for more information or Order Now!

© 2014 - IdahoFrank.com - All Rights Reserved